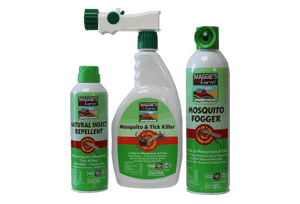 This bundle includes:
Mosquito & Tick Killer: A 32 oz ready-to-use mosquito and tick control concentrate powered by plant oils for use with your garden hose for perimeter and yard protection.
Mosquito Fogger: A 14 oz plant-oil-based aerosol specially formulated to kill and repel mosquitoes and the most common flying insect pests. 
Natural Insect Repellent: This 6 oz DEET-FREE natural insect repellent is a plant oil-based aerosol that provides effective protection against mosquitoes, ticks, and flies.
Bundle Savings = 12.5%
Mosquito & Tick Killer 
For active pest problems and preventative treatments – Spray to ensure treatment reaches deep into heavy vegetation, versus just spraying the top. Grass should be no more than 3" high when treating for ticks. Apply at dusk to maximize treatment effects and minimize any potential for burning delicate plants. Apply at a rate of 500-600 sq ft per minute for mosquitoes and deer ticks. For large ticks, such as lone star ticks, apply at a rate of 200-300 sq ft per minute. Reapply every two weeks, or as needed. 

Mosquito Fogger
For active pest problem – Hold container upright and aim nozzle away from face and other people. Press the button firmly and spray in a slow, sweeping motion toward the area to be treated. For best results, spray when the air is calm and contact as many insects as possible. If a breeze is blowing, spray in the same direction as the wind. Repeat as necessary. 
For preventative treatments – Spray surfaces and vegetation in areas where mosquitoes congregate from about 3 feet away including: plant leaves and dense foliage, under and around decks, porches, patios, outdoor screens, tents and other surfaces pests may contact. Give special attention to any dark, humid areas, as mosquitoes prefer to rest in these areas. Allow a few minutes for the product to take effect. Reapplication will be needed after rainfall. Repeat as necessary. 
Natural Insect Repellent
For repelling pests – Hold container 6 to 8 inches from exposed skin and spray with a slow sweeping motion. Slightly moisten skin, and spread with hand after application for maximum protection. To apply to face, first spray a small amount in the palm of your hand and then spread on face and neck. Do not spray eyes or mouth directly. Do not apply to clothing as product may cause staining. Reapply every 2 hours or as needed. May also be used on dogs, horses and other animals. Do not use on cats, birds or reptiles. Avoid the eyes, nose/nostrils and genitals when applying on animals. 
Customer Reviews
08/20/2023
Smells and works great
Smells and works great
Grace R.

United States
05/16/2023
Awesome Products
First, let me just say I love Maggie Farms Products. I usually only purchase the Mosquito and Ticks product and treat my laws before I set up my cat tents and I only use it once & I'm usually good for the entire summer. I bought the bundle this year because I figure won't I can't use around my house I can my daughters. The stuff smells great which is just an added bonus to a really great product.
Robyn W.

United States
05/22/2022
The best
I love this product! I originally bought it from Walmart and they stop selling it! So I'm glad I found the website it kills and get rid of mosquitoes and the best thing it last for days. U may have to retreat after it rains.
Lacresa H.

United States
08/06/2021
Mosquito & Tick Control (MTC)
I have used many different brands over the years and Maggie's Farm MTC is the first product that actually works for me!! A few sprays of MTC keeps mosquitos, flys away from my animals and family for days. I no longer have to waste $$ trying other brand products. Thank you!
shirley s.

United States

Liquid error (templates/product.no-store-locator line 19): Could not find asset snippets/schemaplus.product.liquid